The apparatus «Gemokvant-04» is used for extracorporeal ultraviolet blood irradiation in the treatment of cardiovascular, infectious, gynecological and other diseases. The device has found wide application due to relative simplicity, safety, efficiency, variety of positive functional effects, high therapeutic efficacy, and the absence of side effects.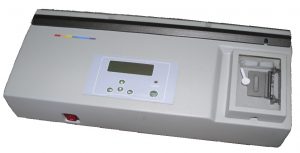 Indications for clinical use:
vascular lesion: ischemic heart disease, atherosclerosis, endarteritis obliterans;
exogenous and endogenous intoxications;
sepsis;
acute and chronic purulent-septic complications;
chronic inflammatory diseases (bronchitis, endometritis, sinusitis, etc.);
viral infections (herpes, viral pneumonia, viral hepatitis);
bronchial asthma;
pustular skin diseases;
female genital diseases;
psoriasis, psoriatic arthritis;
urinary tract and kidney infections;
female and male infertility;
general improvement of the body due to increased immunity.
Main technical characteristics:
Blood flow rate: 5 and 10 mm / s
Continuous operation time: at least 8 hours
Power consumption: not more than 50 W
Operating voltage: 220 V
Service life: at least 10 years
Weight: not more than 7 kg
Dimensions: 500 × 260 × 160 mm
Advantages: high efficiency of treatment due to optimization of the spectral range of the affecting radiation, safety of the irradiation procedure, ease of operation
Apparatus and methods of treatment are certified in the Republic of Belarus