The optical production of the Institute of Physics of the National Academy of Sciences of Belarus specializes in the manufacture of high quality precision optical components and optical-mechanical assemblies using all types of glasses, including quartz glass, glass ceramics like Sital and ZERODUR and, crystals СаF2, LiF, Al2O3, Spinel etc.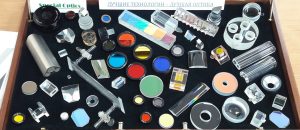 We produce
Spherical and plan optics
Laser optics
Micro-optics
Crystal optics
Polarization optics
Optical filters, dielectric mirrors, beam splitters, antireflection coatings, «notch» filters
Prisms, wedges
Light-pipe and axicons
Custom optical elements and assembly fabrication and lens design
 Technical specifications
Diameter of optical elements: 5…250 mm
Surface Quality: up to 10-5
Surface Flatness: up to l/10
Surface roughness: up to 2 Å
Dimension tolerances: ±0,01 mm
Angular tolerances: ±0,5 arc sec
Parallelism: ±1 arc sec
Optical coatings in the spectral range: 360…2000 nm.
 Quality control is carried out at all production stages using modern measuring instruments such as ZIGO GPI XP interferometer (working diameter up to 150 mm), MÖLLER-WEDEL Goniomat M goniometer, PHOTON RT spectrophotometer etc.
All optical components are accompanied by a measurement protocol.